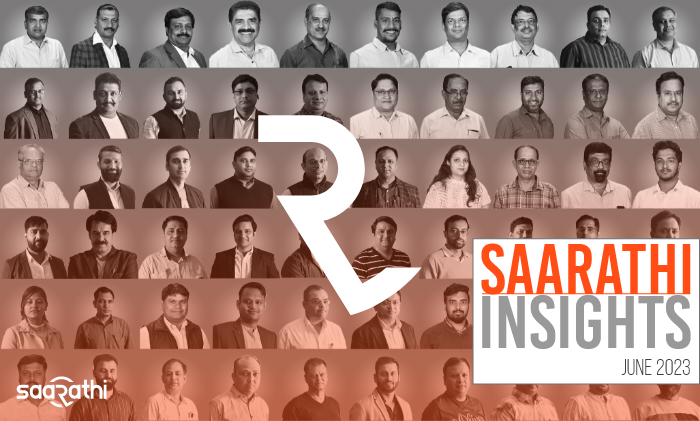 5000+ Channel Partners - Standing Apart with Saarathi
"I am extremely proud to be a part of Saarathi's journey as it establishes itself as India's most trusted lending marketplace. Today, Saarathi is associated with over 5000 Channel Partners, operating across lengths and breadths of India. Saarathi acts as a state-of-the-art digital lending marketplace, connecting lenders with the PAN India Channel Partner Network. On the Saarathi platform Channel Partners, over the last 18 Months, have cumulatively disbursed over 5000+ Cr of loans.

We find ourselves at the forefront of the lending revolution in India, delivering our services on a large scale. With the Saarathi web portal and mobile application, Channel Partners can seamlessly manage their entire business operations and track their team's performance on an immediate basis.

By partnering with Saarathi, you can seize both current and untapped opportunities, redefining what it means to be future-ready for success."


Ravi Choudhary
Chief of Staff, Saarathi.ai
Revolutionizing Home Loans with Top Banks & NBFCs

Saarathi is a one-stop shop for all your client's lending needs. Specifically for Home Loans, we have onboard 24 leading Lending Partners to offer credit to their customers. We empower our CPs with digital tools and banking integrations, with 100% data security, along with the fastest & timely payouts.
 

As we complete our 1st Financial year, we proudly announce that our Top 30 Lenders are now empanelled directly with Saarathi Codes, with all 85+ Codes transitioning over the next 3-4 months.
You can track these Codes' transitions through our Monthly Payout Brochure for smoother future transactions. Let's continue to partner and grow together!
QR Code - The Game Changer

At Saarathi, we aim to digitize the loan journey, that allows our CPs to get potential clients onboard, in a quick and hassle-free manner. With the power of a personalized QR Code, now our DFAs can source customers like a Fintech, unlocking unlimited leads & growth. With the help of instant communication and pre-filled information, our CPs achieve faster TATs and are able to grow their business 5X times in today's fast-paced lending industry.